Six Tokyo-based players who are well recognized on the contemporary jazz scene have come together to explore the possibilities of improvised music in the twenty-first century. With a repertoire consisting of new interpretations of the jazz standard repertoire as well as original compositions, the band's sound is fresh and innovative, but well grounded in the traditions of jazz.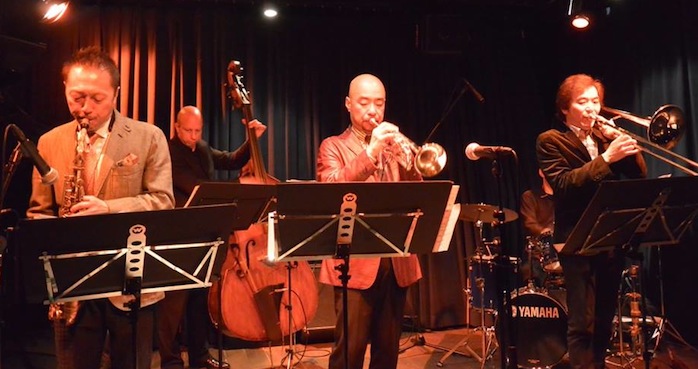 ---

Mark Tourian
leader, bassist, and composer/arranger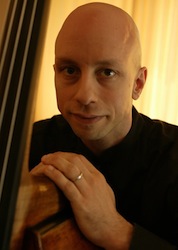 After extensive touring in the US and appearances with major jazz figures in New York City, relocated to Tokyo in 1997. Besides performing with many leading Japanese artists and musicians from abroad, has toured Japan and North America and released CDs with several original music projects including the Window Trio and Candela.
Yoshiro Okazaki
trumpet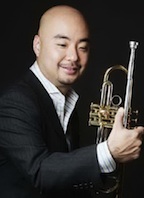 After graduating from Boston's Berklee College of Music, returned to Japan and immediately began playing and touring with many of the major players including Junko Onishi, Seiichi Nakamura, Motohiko Hino, Seiji Tada, and Yoichi Kobayashi. Released debut album "Okazaki Brothers" in 2003. Based in New York from 2005 to 2008, performed with Mingus Big Band, Mingus Dynasty, Valery Ponomarev Big Band, and Makoto Ozone's No Name Horses.
Kazuhiko Kondo
alto saxophone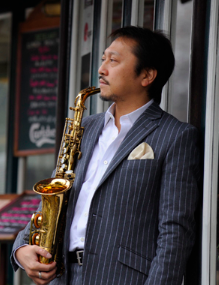 Native of Kofu, Yamanashi Prefecture. In addition to leading his own quartet and sextet, has performed consistently with many of the top artists in Japan including Sadao Watanabe, Makote Ozone, Shigeharu Mukai, Eric Miyashiro, Junko Moriya and American artists including B.B. King, Phil Woods, the Duke Ellington Orchestra, Jimmy Scott, Chicago and Lew Tabackin. Appearances in major festivals including JVC Jazz, Monterey, IAJE, Montreaux, and Jakarta Java Jazz Festival.

Yuzo Kataoka
trombone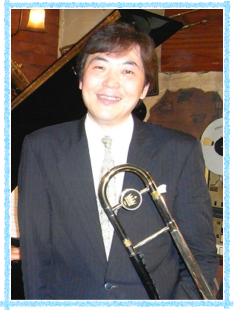 Born in Tokyo, began playing professionally while still in high school. Leads his own quartet, and appears with leading Japanese jazz players such as Terumasa Hino, Sadao Watanabe, Makoto Ozone, Nobuo Hara, Eiji Taniguchi, Masahiko Osaka and Tetsuro Kawashima.

Simon Cosgrove
piano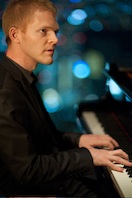 Born in England. After graduating from Cambridge University, came to Japan on the Daiwa Scholarship to study Japanese and work in the musical sphere. Actively involved both as a saxophonist and pianist on the Tokyo professional jazz circuit; has recorded CD's both in Japan and the UK, and featured as a pianist in the Japanese comedy movie Tsuri Baka Nisshi, released in August 2005.
Juasa Kanoh
drums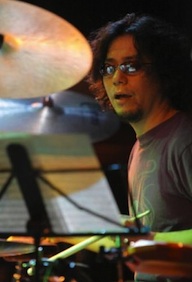 Osaka native. While studying at Musicians' Institute in Los Angeles, performed with many players on the LA jazz, funk, and latin scenes. Now appearing regularly with many top players in Tokyo including Pink Bongo, Crystal Jazz Latino, and the Shinji Akita trio.
---



The seeds of the MT6 project were planted in the late 1990s soon after Mark had relocated to the Tokyo area. Along with pianist Eddie Mendenhall, he formed a quintet (occasionally growing to sextet) featuring saxophonist Bob Zung and presenting original compositions of the members. This band continued until Eddie decided to return to his native California. For the next ten years, Mark became increasingly busy with collaborative projects (Candela and the Window Trio) and raising a family.

The earthquake/tsunami/nuclear crisis of 2011 caused complete upheaval of the lives of all of us living in eastern Japan. The trauma of the events and the uncertainty they created became a powerful catalyst for Mark, leading him to a focussed period of composing in which he created many of the works that have become signature pieces for the band. Once this base repertoire was completed it was just a matter of putting together the right group of players to interpret it, a task made easy by the rich pool of high level players in the Tokyo scene.

Soon after the band began appearing at Tokyo area jazz clubs MT6 began receiving invitations to perform at larger venues. While performing mostly in the Tokyo/Yokohama area, little by little the band is beginning to explore more far-flung territories of Japan. Next, maybe overseas . . . .



---


In writing for this band, Mark is striving to create a sound that is original yet recognizable, powerful and dynamic but intimate and sensitive. The many talents of the members are on display in works that explore different points on the composition/improvisation continuum that is a part of the jazz tradition. A large part of the MT6 repertoire is arrangements that provide a new take on familiar material, whether it be popular standard tunes, compositions of the great jazz legends, or even classical themes. The original music that Mark composes draws from an even broader spectrum of influences, from Ellington and Monk to Stravinsky and Bartok, Dr. John to Zappa, the Beatles and Stevie Wonder. Sometimes the music dares to poke outside the boundaries of what we call "jazz", but is always created with emotional sincerity and strong intent.

Arrangements:
Autumn Leaves (Joseph Kosma)
Blue bossa (Kenny Dorham)
Con Alma (Dizzy Gillespie)
Cherubino (aria by Amadeus Mozart)
Duke Ellington's sound of love (Charles Mingus)
Duke's Place (Duke Ellington)
Fables of Faubus (Charles Mingus)
Green Dolphin Street (Bronislav Kaper)
Harpo's Blues (Phoebe Snow)
Here's that Rainy Day (Jimmy Van Heusen)
How about you? (Burton Lane)
I concentrate on you (Cole Porter)
I love you (Cole Porter)
If I Should Lose You (Ralph Rainger)
I'll Remember April (Gene DePaul)
Invitation (Bronislav Kaper)
It was just one of those things (Cole Porter)
Jelly Roll (Charles Mingus)
Jump Monk (Charles Mingus)
Just in Time (Jule Styne)
Manha de Carnaval (Luis Bonfa)
My Funny Valentine (Richard Rodgers, Lorenz Hart)
The Nearness of You (Hoagy Carmichael)
Night and Day (Cole Porter)
Self portrait in three colors (Charles Mingus)
September Song (Kurt Weill)
Strollin/Nostalgia in Times Square (Charles Mingus)
What is this thing called love? (Cole Porter)
You'd Be So Nice to Come Home To (Cole Porter)
Originals:
Another Dream
Blue Stroke
Breakfast Blues
Butane
Cleanup
Dr. Dark One
Feeling Feckless?
Fight for Survival
For Tom
Fresh Thyme
Friday
Itty Ditty
Just one
Keep tryin
Little Island
Longhair
Nickel and dime-ing
None of you
Prelude
Shindig
Sixth sense
Streamline
Sweetpea
The sun brings hope
Thank You, Please
Thello
Trust
Two-tone
Your face

---


The MT6 debut CD is under construction at this point. Hoping for a fall 2015 release, so please stay tuned on that one. In the meantime, here are some low sound quality "bootleg" takes from a gig we did at a club called Cafe Lamp in Omiya, Saitama on February 26, 2012. It was a cold winter night and the piano was on death's door, but I feel really proud of this performance and wanted to share a few of the tunes that will not make it on to the upcoming CD. Enjoy!





Both video and audio quality are not so good, but here are a few things I uploaded to Youtube:





Here's a few more I found on Youtube. Don't know who filmed/uploaded these:







---