This is always one of my favorite times of year- when there is lots of really warm sunny weather, but no mosquitos, no summer humidity. If only it would stay like this a little longer!

Late last year I decided I wanted to focus on doing more things with my sextet, MT6. So far, things have been moving along quite well. We are pretty much keeping the pace of one show a month, and this month's installment will be the 16th (which is a Thursday) at B Flat in Akasaka. It is a lovely venue for jazz- good piano, good room sound, large stage, and the famed brick wall with signatures of so many great musicians. Come on out and hear us if you can!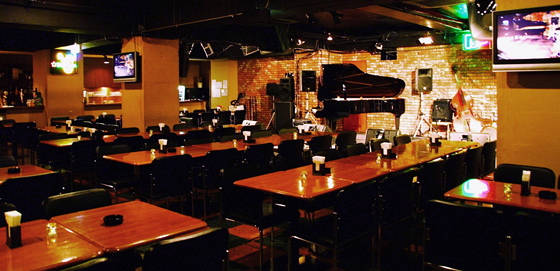 Last month we did a free concert at the beautiful Franciscan Chapel Center in Roppongi. This was part of an ongoing concert series initiated by Charito, who just happens to be a member of this church as well as being a world class jazz vocalist. We had a great time there. The audience was very warm, and the sound in the room was so nice that we did the concert completely acoustically (no PA). And after we finished Father Russel, one of the priests there, gave a nice little two minute "jazz sermon" reflecting on the way that jazz musicians are very patient and tolerant of each other, always listening to each other and trying to adapt to each other. He said this is the way we should try to deal with others in everyday life. I like that idea a lot!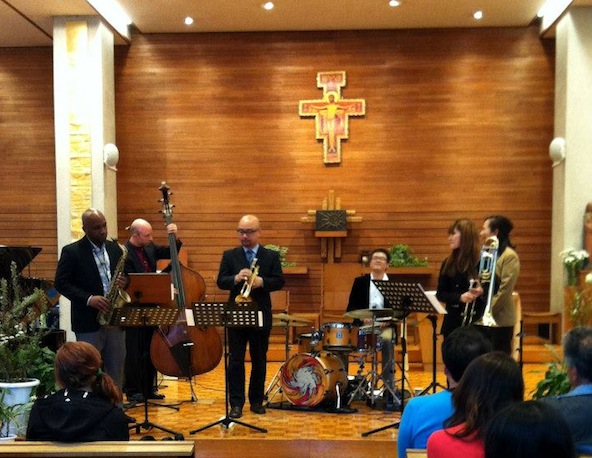 MT6 Kyushu Tour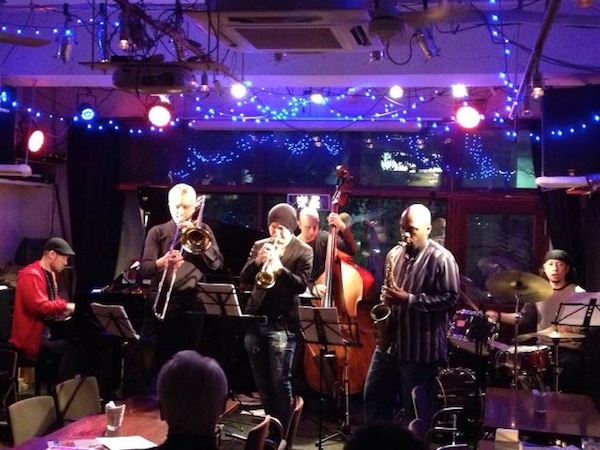 Our Kyushu tour was a great success all the way around. Before hitting the road, we had one last show in Tokyo, at Rakuya in Nakameguro. It was a beautiful scene outside with the cherry trees blooming so early. And we had our own little indoor hanami party, complete with tasty Thai food and the sounds of MT6.
Our first hit down sounth was in Kagoshima. We played at Jazz Spot Lileth, a club with a more than twenty year history on the Kagoshima scene. It is run by Lileth Furukawa, a wonderful singer originally from the Phillipines, and her guitarist husband. It was a one-night music festival, with many great young local musicians performing before us. Then we played our show, and were joined by Lileth for several tunes each set. Her singing was beautiful, dramatic, and sensitive. And the enthusiastic audience seemed to enjoy our original repertoire as well.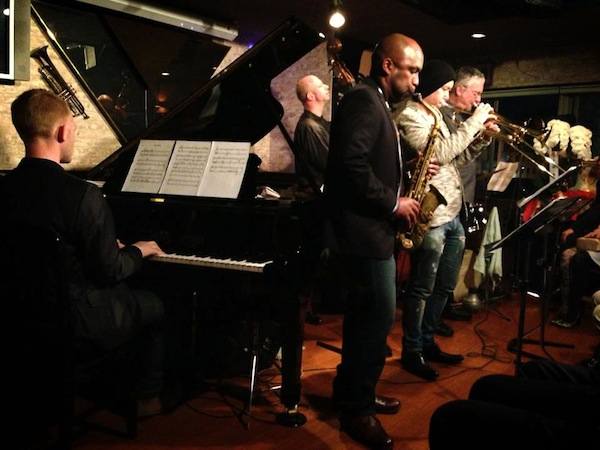 Our next performance was a concert in the beautiful town of Isa, a place famous for its pure water, high quality rice, and some of the best imo-jochu (sweet potato whisky) around. The outstanding concert hall in the town recently had a brand new custom made PA system installed, and our concert was its maiden voyage. As you can imagine, the sound was something close to perfection- incredible clarity, accuracy, and balance. It made our job very easy. And we were joined by two modern dancers who moved recently from Tokyo to the area. We did a short improvisation to open the second half of the concert.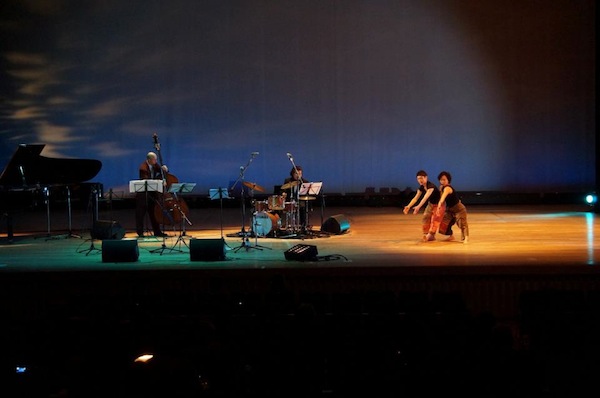 Valentine's Day Concert
Back in February we did a very special concert at B Flat in Akasaka. The sextet was joined by two of the great jazz singers in Tokyo, Andrea Hopkins and Harvey Thompson. It was a nice challenge for me to arrange some things for them to sing with us, and it was a real inspiration to hear them improvising together. The club was as full as I have ever seen it, and the music was greeted by a hearty enthusiasm not often witnessed in Tokyo.